The Indonesian Journal of Public Administration (IJPA) is open access and peer-reviewed scientific journal published by the Department of Public Administration Universitas 17 Agustus 1945 Jakarta (UTA '45 Jakarta). This journal aims to disseminate current and original articles from researchers and practitioners on various contemporary public administration issues such as bureaucracy reform, digital government and governance, inclusive policy, regional autonomy, social capital, community development, public service, public budget, development policy, administrative development, state apparatus management, inclusive organization management, and other related issues in public administration studies.
Before submitting, please ensure that the manuscript is in accordance with IJPA's focus and scope and follows our author guidelines & manuscript template. The editor will only accept the manuscripts which meet the assigned format. The actions of reviewers, authors, and editorial board related to this journal publication should be based on the IJPA's publication ethics.
Submissions to IJPA are accepted on an ongoing basis. IJPA is published twice each year in June and December.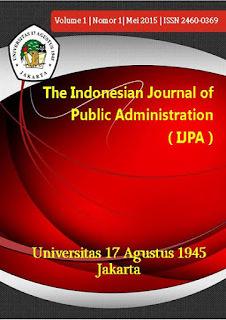 Vol 9, No 1 (2023): THE INDONESIAN JOURNAL OF PUBLIC ADMINISTRATION (IJPA) | JANUARI- JUNI 2023
Table of Contents
Penelitian
| | | |
| --- | --- | --- |
| | Herlina Muzanah Zain, iqbal Aidar Idrus, Angella Rosha Pangestu, Madi Ramadhan | |
| | | |
| --- | --- | --- |
| | Bambang Suharto, Supadno Supadno | |
| | | |
| --- | --- | --- |
| | Arif Nugroho, Jumanah Jumanah, Haetami Haetami, Agus windu saputra, Aditiya somantri | |
| | | |
| --- | --- | --- |
| | Siti Nur Amanah, Oktarizka Reviandani | |
| | | |
| --- | --- | --- |
| | Berliana Putri, Oktarizka Reviandani | |